JB is a multiinstrumentalist, producer, songwriter and singer best known as one of the Common Linnets.
He has played with, on records by, produced and wrote music for artists like De Dijk, Carice Van Houten, Howe Gelb/Giant Sand, Acda en de Munnik, Daryll-Ann, Blondie Chaplin, Peter Maffay, Ken Stringfellow, Bløf, Frank Boeijen, Tröckener Kecks, Hallo Venray, Bastian Baker, Solomon Burke, Go Back To The Zoo to name a few.
He is also in demand as a scorewriter for orchestral work and has written and arranged a few musicals for Stage Entertainment Productions. Over recent years he has also released a few solo cd's.
For management please contact: jb@jbmeijers.com 
For soloshow bookings please contact: casper@twistagency.nl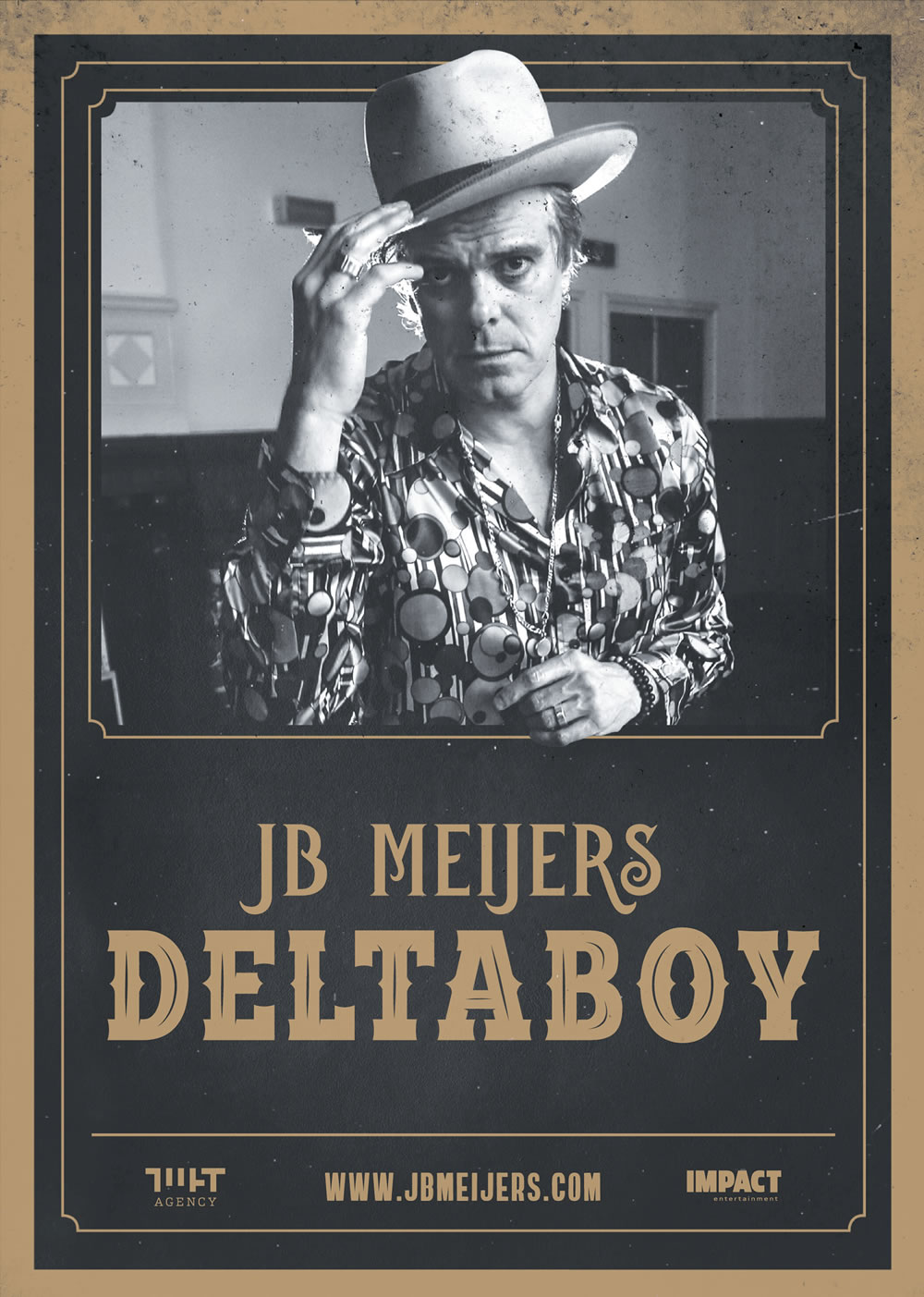 JB Meijers is te zien met de reprise van zijn voorstelling 'Deltaboy'.
Het broeierige Zuiden van de Verenigde Staten. JB is op tour en ontmoet een bekende bluesmuzikant. Ze zijn geboekt op dezelfde studiosessie in een studio waar Howlin' Wolf, Elvis, Johnny Cash, Jerry Lee Lewis en vele anderen hun eerste schreden op hun muzikale pad zetten.
"How is it possible that you play your music the way you do when you come all the way from Europe?" Vraagt de artiest aan JB.
"Ik speel gewoon wat in me opkomt", antwoordt hij nonchalant, maar dat antwoord is niet genoeg. Niet voor JB, niet voor de bluesmuzikant.
"Where exactly are you from?" vraagt de bluesmuzikant na een tijdje aan JB.
"Nou, dat is een beetje ingewikkeld" antwoordt hij, "Ik kom uit het Zuiden van Nederland; de Zeeuwse eilanden."
"That explains everything", zegt de bluesmuzikant "you're a Deltaboy, just like us!"
Een belangrijk moment voor JB. Immers, is Zeeland niet net als Mississippi een voornamelijk agrarisch gebied met veel water, waar mensen hard werken, wat niet bepaald de economische motor van hun land is, waar infrastructuur niet hoog in het vaandel staat, waar de tijd net een stukje langzamer gaat en soms lijkt stil te staan?
Is de Deltablues niet de oorspronkelijke bron waar JB bewust of onbewust zijn omvangrijke carrière aan te danken heeft?
Hoe ver reiken de tentakels van deze oude muziekvorm in de hedendaagse muzikale vormen?
Vragen die JB zich sinds kort stelt. Een bluespurist is hij allerminst, maar de geest van mensen als Robert Johnson, Skip James, Blind Willie McTell, Muddy Waters en John Lee Hooker alsmede Duke Ellington, Count Basie en Charlie Christian is nooit ver weg in JB's werk. Nooit!
2022
02 JUN – PARADOX – TILBURG – TICKETS
05 JUN – CULTUURPODIUM P3 – PURMEREREND – TICKETS
10 JUN – HEDON – ZWOLLE – TICKETS
11 JUN – PODIUM VICTORIE – ALKMAAR – TICKETS
16 JUN – BIBELOT – DORDRECHT – TICKETS
17 JUN – DE PUL – UDEN – TICKETS
18 JUN – NEUSHOORN – LEEUWARDEN – TICKETS
23 JUN – PARADISO – AMSTERDAM – TICKETS
25 JUN – POPPODIUM VOLT – GRONINGEN – TICKETS
30 JUN – PAARD – DEN HAAG – TICKETS
01 JUL – DE MEESTER – ALMERE – TICKETS